Photo courtesy Champlain Waterfront Hotel 
Contributor Chris Occhiuzzi shares his favourite places to stay in and around Orillia. If you're looking for a reputable place to stay, you'll find it on this list of the top hotels in Orillia Ontario
Updated  Jan 24, 2023/ Commissions may be earned from our affiliate partner links
Waterfront access for all on two amazing lakes where one can enjoy swimming, boating, fishing, and beaches is only the beginning of the excitement in the City of Orillia.
But there's certainly more to this lovely central Ontario community than the many fun things to do on Lake Simcoe and Lake Couchiching. In fact, there are museums, theatres, restaurants, and shopping galore all within a few kilometres of nearly every accommodation location in the area.
Orillia has something for everyone, be it romantic escapes, family trips, weekends with friends, and all other types of vacations. Stay at a downtown (or at least close to downtown) hotel for walking access to a variety of cultural activities and great restaurants, or visit a resort property a short jaunt away to be close – but not too close – to the action.
Of course, one of the biggest draws to the area is Casino Rama. The region's largest venue, the casino is known for fun gaming as well as all manners of live entertainment, including big name acts which pack its 5,000-seat theatre.
No matter the reason for visiting, make your next trip to this amazing area a little easier with our list of the top hotels in Orillia.
Your Guide to the Best Hotels in Orillia
Bayview Wildwood Resort, Ascend Hotel Collection
Located on Sparrow Lake in between the towns of Gravenhurst in cottage country Muskoka and Orillia, Bayview Wildwood Resort is a charming place to get away from the hustle and bustle of daily life. Although its best to visit in the warmer months to take full advantage of the waterfront property, there is something cozy and inviting about renting a room or a cottage during the winter.
Winter at the resort is a lot of fun with snowshoeing, cross country skiing, skating, toboggans, ice fishing and more either on the property or very close by. Summer at Bayview Wildwood is like going to a cottage: swimming, canoeing, fishing, and all manner of water fun mixed in with other outdoors activities.
The spring and autumn aren't too shabby, either, with trails to walk or bike, as well as brilliant fall colours to enjoy. Meanwhile, the indoor facilities at the Lakeshore House recreation centre include a hot tub, squash courts, a billiards table, table tennis, foosball, an exercise room, video games, and an indoor pool.
Rates, Reviews, & Reservations: Learn more about the property and everything there is to do here, along with rates and availability, at Bayview Wildwood Resort.
Horseshoe Resort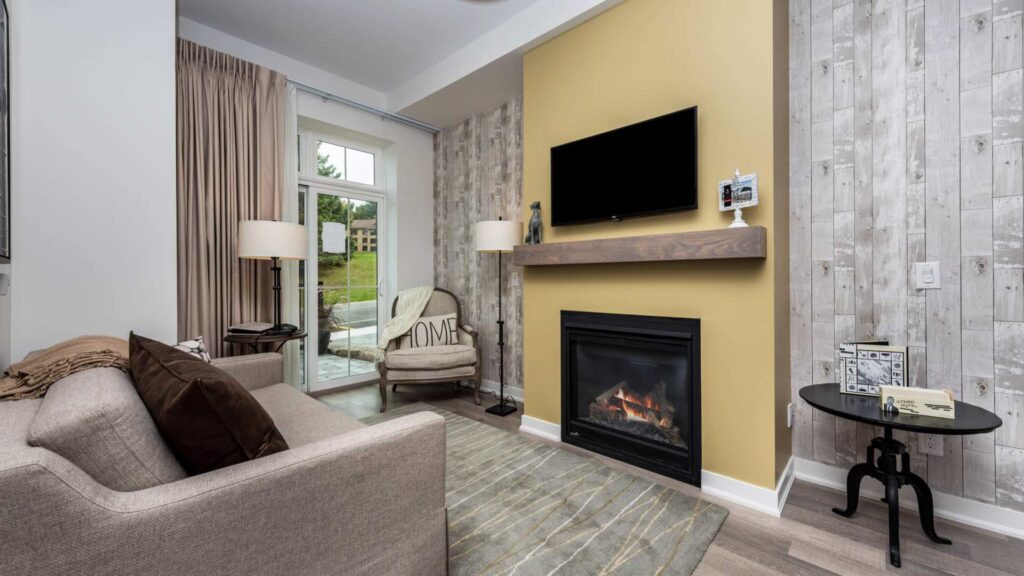 Steps away from the Horseshoe Valley ski hill is one of the best hotels in Orillia. Horseshoe Resort has a little something for everyone – in every season – but it's biggest draw is definitely the Ski & Stay package for rippers, bombers and everyone in between. Oh, and shredders are welcome too.
With each room night booked, the Ski & Stay Package includes one day and night lift ticket for each guest, with lift access available from 9am to 9pm. As well, a bonus one-night lift ticket is provided for each guest on the day of arrival (lift access is from 3:30pm to 9pm).
The slopes at Horseshoe Valley have difficulties to fit every ski level and several instructors for both skiing and snowboarding. Combined with a hotel featuring amazing accommodations, several food and beverage options, and extensive facilities, it's easy to see why the location is so popular.
Other winter activities include snow tubing, cross country skiing, fat biking, snowshoeing, and snowmobiling. Meanwhile, year-round spa services, seasonal golf packages, mountain biking, ATV adventures, and other fun amenities mean staying at Horseshoe Resort isn't a winter-only option.
Rates, Reviews,& Reservations: Find out more about what the resort has to offer your family at Horseshoe Resort. 
Stone Gate Inn
It's often a good idea to treat oneself and your favourite 'other' to a luxurious weekend – or make it a week – away from the daily grind. The Stone Gate Inn is just the place to stage your getaway.
From the amazing stonework on the building's exterior to the classy décor and natural tones throughout the interior, this hotel makes you feel special just by being a guest. Featuring 48 elegant suites of various sizes – get one with a gas fireplace or a jacuzzi for a romantic evening – and the lovely Fireside Lounge where drinks, dinner, or both can be enjoyed, the Stone Gate allows both out-of-towners and locals the opportunity to escape everyday life.
Each suite has its own wet bar, kitchenette, aromatherapy products, and plush bathrobes for the guests, while complimentary hors d'oeuvres are served every Friday evening from 5pm to 8pm. And what would luxury be without complimentary shuttles to and from Casino Rama, where live entertainment, gaming and a fun-filled evening await?
If a casino trip isn't for you, not to worry as there are plenty of fun activities, places to visit, and sights to see in Orillia proper. Then, after a long day of adventuring, return to the hotel for a dip in the indoor pool or hot tub.
Rates,Reviews, & Reservations: Find out more or book your trip today at Stone Gate Inn.
The Champlain Waterfront Hotel, an Ascend Hotel Collection
Nestled a hop, skip, and a jump away from the shores of both Lake Couchiching and Lake Simcoe, The Champlain Waterfront Hotel is a luxurious place to enjoy either body of water – or both. Built in the 1910s, the hotel's beautiful red brick exterior is accented with Romanesque columns, giving it a colonial look and feel. The location and charming design alone could easily make The Champlain one of the top hotels in Orillia, but there is much more to enjoy.
Walking into the hotel and one is hit with a hint of modernism; it's sleek, features sharp angles with dark colours throughout the lobby and into the rooms. The hotel was renovated to achieve this décor in 2017, but they  give a nod to the past with black-and-white photographs of the hotel, a mural with guest comments dating back to 1941, and other historical features carefully and skillfully placed in appropriate locales.
While staying at The Champlain in the summer, take a walk down to the Port of Orillia boardwalk for some fishing, swimming… or simply to watch the world pass by. It's also a short stroll away from some of the best restaurants and dining experiences in Orillia, too.
Winter stays offer easy access to Mount St Louis Moonstone for skiing, Bass Lake Provincial Park for snowmobiling, or Lake Simcoe for ice fishing. Year-round, the hotel shuttle provides trips to Casino Rama.
Rates, Reviews, & Reservations: The Champlain Waterfront Hotel
Fern Resort 

Be sure to request a lake view like this one when booking into Orillia's Fern Resort (Photo courtesy Fern Resort)
Families will delight at the all-inclusive Fern Resort just north-east of Orillia in Ramara, Ontario. Enjoy packages that include accommodations, three meals per day, and plenty of activities at the 125-year-old property.
Located on the shores of Lake Couchiching, there are plenty of fun things to do in any season, but the winter and summer are particularly spectacular. Winter fun includes a 1.5 km skating trail, snowshoeing, curling on the lake, ice fishing, cross-country skiing, an indoor pool, and much more.
Meanwhile, summer fun by the lake is what one would expect from a large lakeside resort.  Beach volleyball, pedal boats, kayaks, canoes, SUP, mini-putt, tennis, archery, a batting cage, paintball, and so many other outdoor and indoor activities are available. And when it's time for the adults to get a little 'me time', Fern Resort has supervised programs for five different age levels – everything from a Play Village to kids' Extreme Sports.
Plus, there are plenty of accommodation options to choose from to ensure families both big and small can have a comfortable stay. This dedication to being a full-service, all-inclusive resort is why Fern Resort makes our list of the best hotels in Orillia.
Rates, Reviews, & Reservations: Fern Resort
Best Western Plus Mariposa Inn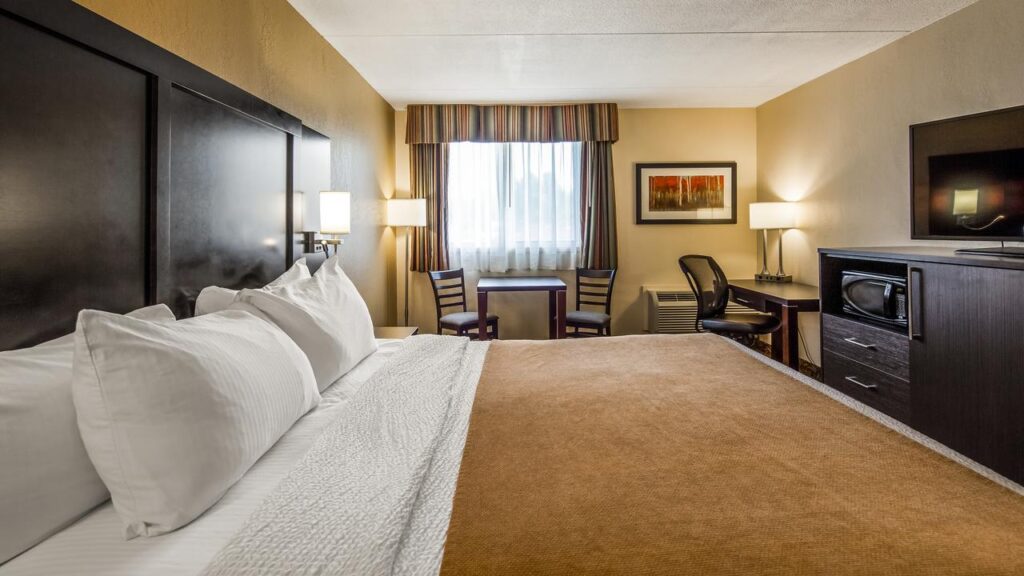 Nearly everyone in central Ontario has either attended or knows someone who has attended a meeting, conference, or even wedding at the Best Western Plus Mariposa Inn. Those who don't probably haven't been listening very well.
All kidding aside, the Mariposa Inn is included on this list of the best hotels in Orillia because of its ability to service both large and small groups, along with individuals and couples. The hotel's meeting facilities hold  from 15 people to 75 people, while its banquet and conference areas feature options ranging from 150 to 230 guests. Perhaps not quite big enough for a traditional Mediterranean wedding, but large enough for most others.
Meanwhile, guests can enjoy the many amenities the Mariposa Inn has to offer, including The Grape and Olive Wine & Martini Bistro, Grape & Olive Smokehouse and cocktail lounge, indoor heated pool, sauna, hot tub, extensive fitness equipment and, of course, all those other items a full-service hotel has to offer.
Located in the heart of the city, the hotel is also close to all the wonderful cultural, heritage, shopping, and activities Orillia provides.
Rates & Reviews: Find out what else the hotel has to offer at Best Western Plus Mariposa Inn
Fairfield Inn & Suites
The Marriott name has long been associated with quality hotels featuring comfortable accommodations and great service. Well, the Fairfield Inn & Suites in Orillia is no different. With room options ranging from a single room with two queen beds to one-bedroom suites, the hotel is a wonderful stop for both individual business travelers and small families. And they have on-site options to satisfy their large variety of guests.
With five-floors featuring 92-rooms, an indoor swimming pool, complimentary breakfast – full or grab and go – a well-equipped fitness room, laundry, wireless internet service throughout, and more, the Fairfield Inn & Suites takes care of your needs. As a plus, the hotel is pet-friendly, so your furry family members can visit too.
Dining at local establishments is no big deal either, with several amazing eateries located within walking distance of the hotel, while the shores of Lake Couchiching and Lake Simcoe are a short drive away. So, too, are other must-visit tourist stops such as Orillia Rotary Place, the Stephen Leacock Museum, Orillia Opera House, and Casino Rama.
Rates & Reviews: Check out what else the hotel has to offer at Fairfield Inn & Suites.   
Best Western Plus Orillia Hotel
Business travellers looking for a central location with easy access to everything the area has to offer are certain to appreciate staying at the Best Western Plus Orillia Hotel.
Keeping with the standards set by the brand, the Best Western Orillia provides everything you need to get your business done, unwind, and then get in some sightseeing, all at a reasonable price. With several dining options in the vicinity, including the on-site Portage Italian Bistro – open for breakfast and dinner – it's the perfect place for short or extended business trips.
Perhaps your trip is a pleasure vacation with a special someone? Well, the Best Western Orillia can provide a place to rest your head after a busy day exploring the community. The hotel is within walking distance of Tudhope Park, where a walking path, beach, and other outdoor activities are available. As well, it is a short trip to Casino Rama, downtown Orillia, the Stephen Leacock Museum, the OPP Museum, theatres, and more.
Rates & Reviews: Learn more about what the Best Western Plus Orillia Hotel has to offer through our accommodations partner.
Rawley Resort, Spa & Marina
The luxurious 4-star Rawley Resort, Spa & Marina, while a little further away than most other properties on this list of great hotels in Orillia, is certainly worth considering if you're looking for a classy Ontario resort vacation.
Located on the shore of Little Lake just a kilometer from the Trans-Canada Highway and 24 kilometers from the Mount St Louis Moonstone ski area, Rawley offers a number of stylish, individually decorated suites. Amenities such as living rooms, TVs, Wi-Fi, and in some cases, water-view balconies or terraces are also included in your stay.
Upgraded suites feature additional amenities such as Jacuzzi tubs, rainfall showers, separate dining areas, and lofts. The hotel also features a sophisticated restaurant with a piano, a waterfront patio for casual dining, a spa using organic products, a heated outdoor saltwater pool, a lighthouse observation deck, a marina, hot breakfast, and EV charging stations.
Reviews, Rates, & Reservations: Check Rawley Resort, Spa & Marina for further details.
Casino Rama Resort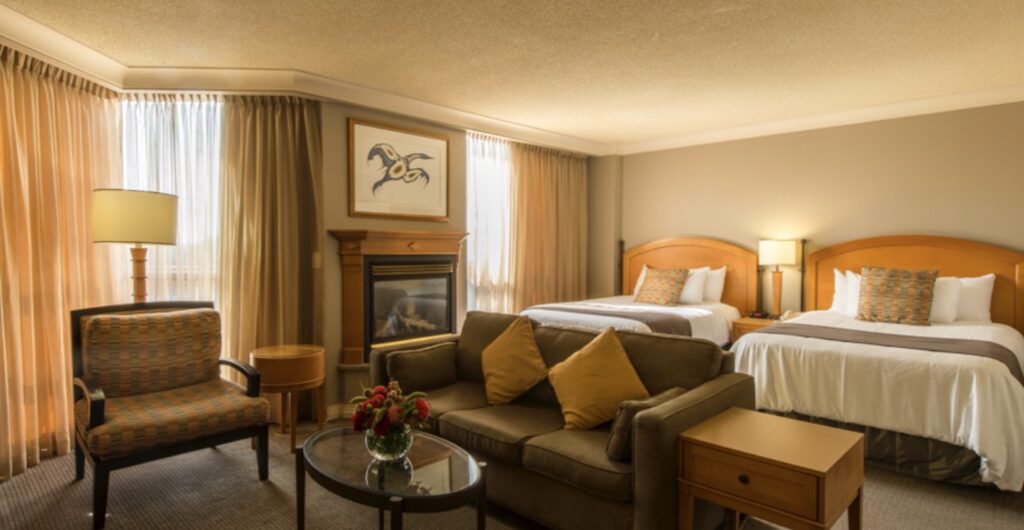 "Are you going to Rama tonight?" is an often asked question for those living in and around the Greater Toronto Area (GTA). Casino Rama Resort is one of the biggest tourist draws to the Orillia area, here to place a bit and gamble or enjoy a concert (perhaps even both).
Casino Rama has certainly attracted some huge names over the years in a variety of genres. From KISS to Avril Lavigne, Tony Bennett to The Tragically Hip, and many other fan favourites, Casino Rama's 5,000 seat venue is a great place to catch a concert. Other popular Casino Rama shows include stand-up comedy from some of the top names in the business, dance events, and much more.
Often friends and couples make it a weekend trip to Casino Rama hotel – or at the very least an overnighter – when planning to place wagers, see shows, and enjoy the resort. They also have 10 food and beverage establishments, an excellent spa, and numerous other amenities fitting of a world-class property.
Rates: Plan your trip by contacting the resort directly at www.casinorama.com
___________________
Contributor Occhiuzzi is a staff writer at Dockside Publishing and founder of Muskoka Unlimited.
​

The 2024 BMW i5 M60 electric vehicle is a strong debut in the mid-size EV sedan market from one of Germany's top manufacturers