Photo: Cameron Dearsley / Riley 
Contributor Andrew Wagner-Chazalon pays a long-overdue visit to the Common Stove and discovers why this classy eatery is the best restaurant in downtown Orillia
Whether you're writing a play, performing a sonata, or opening a restaurant, there are some key ingredients that go into creating something extraordinary. It's vital that you have a vision for what you want to achieve, the talent to execute it, and the confidence to know when to let your creation stand proudly and find its audience.
That magical alchemy is on full display at The Common Stove. Located in downtown Orillia, it is deservedly winning a reputation as one of the finest restaurants north of the Greater Toronto Area.
The fact that it even exists is a testament to the vision and creativity of its founders. The Common Stove opened in early 2020, just weeks before the first of the Covid-related lockdowns. But those few weeks were obviously enough to inspire a local clientele, who knew that something extraordinary was happening in the heart of this small city. And so, they supported it. They attended dinners in an adjacent alley, made purchases at wine auctions, and bought takeout. And, when they could, they made reservations and came for meals again and again.
The Common Stove Serves Uncommonly Good Cocktails
Their reward was food that was creative and smart without being self-consciously clever, served in an atmosphere that is elegant yet casual, a place where you can comfortably wear a suit while the servers are in jeans. The focus here is on the food, a celebration of superb ingredients and excellent cooking technique that is willing to be simple and straightforward when that's what the food demands, a menu that is confident enough to be taken on its own terms.
We began our recent visit, as one should, with a signature cocktail. There are only six of them, but that didn't make selection any easier. I opted for a Diplomat: mezcal, madeira, and dark rum (Diplomatico, hence the name). The simple garnish of a peel of lime gave this dark drink the lightness it needed for balance.
My companion went for the opposite end of the spectrum with a Persimmon per Simon, a fruity blend of persimmon syrup, gin, Japanese whisky, and lime. Again, the garnish – a sage leaf – provided a perfect counterbalance.
Share, Experiment, Enjoy
The menu has a unique organizational structure. Rather than appetizers and mains, we are presented with a choice of small and large vegetable dishes and meat dishes, each of which can be combined in various ways.
The idea is to encourage sharing and experimentation; after all, the restaurant is named for the tradition in some Eastern European countries of building apartments with a shared kitchen, a "common stove" where people gather to cook, chat, and share food.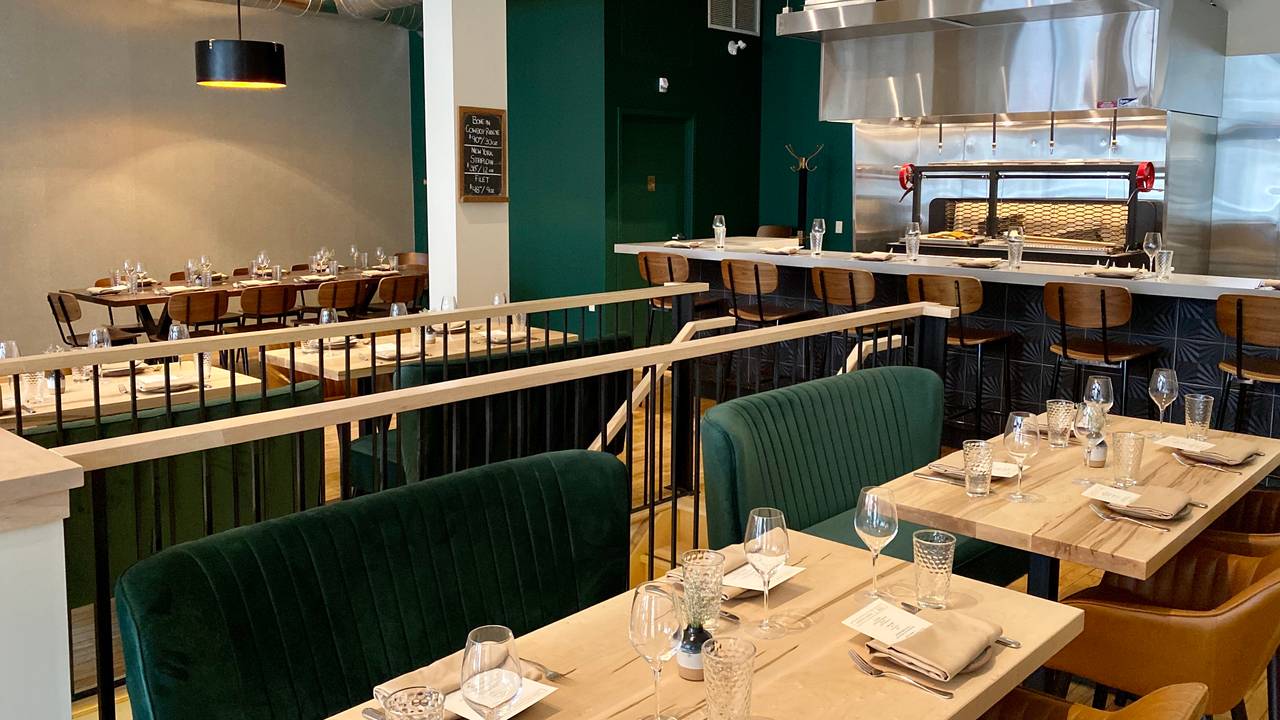 The best way to order here is to tell your server what you're interested in and let them suggest the best way to bring out the dishes. We opted for the burrata, baked celeriac, a ribeye steak and the evening's special of fire-smoked scallops. Our server suggested that we also try a small side of the heirloom carrots.
To Begin at the Beginning
We began with the burrata and the scallops. Burrata is a delicious fresh cheese: think of a casing of fresh mozzarella surrounding a pillowy, white filling the consistency of soft-boiled egg. When it's done right, burrata is a textural fabric, a delicate base on which other flavours can be layered.
It's easily overwhelmed, but the burrata here is done very right, served with sweet wedges of fresh fig and a salty, coarse dressing of miso and pistachio, all accompanied by thin slices of chewy, fragrant, dark sourdough bread. It's a dish you can lose yourself in.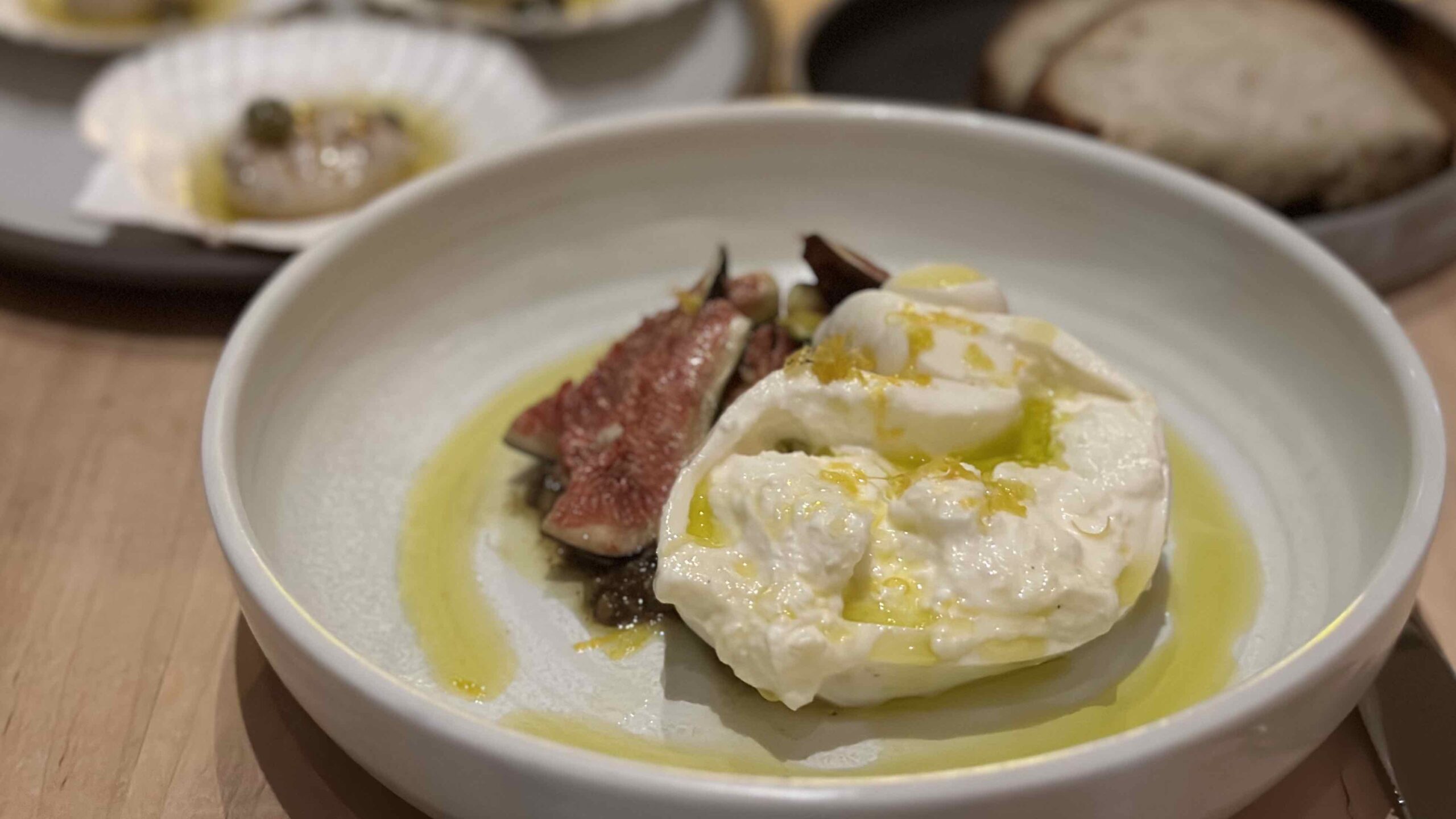 The scallops were equally thrilling: three massive, sweet scallops, fire roasted and lightly dressed with capers and garlic oil. We recently returned from a trip to the Bay of Fundy in Nova Scotia where they grow some of the finest scallops in the world, and I can truly say I had nothing there to surpass the scallops here in Orillia.
Creative and Confident Fireroasting
Fire roasting is a feature of the cooking at The Common Stove. And here is another sign of the creativity and confidence on display here: it is never overdone. All too often, restaurants that have a signature cooking style use it to excess, as if the owner is saying "we paid for a wood-fired grill and, goddammit, I want to taste the wood fire in everything!" 
Here, though, they have the confidence to be restrained, to give a little bit of smokiness to the dishes that warrant it, and to trust their clientele to notice and appreciate it. The smoke becomes a sinuous thread, subtly weaving its way through some of the dishes, showing up here and there in just the right amount, but never making its presence obtrusive.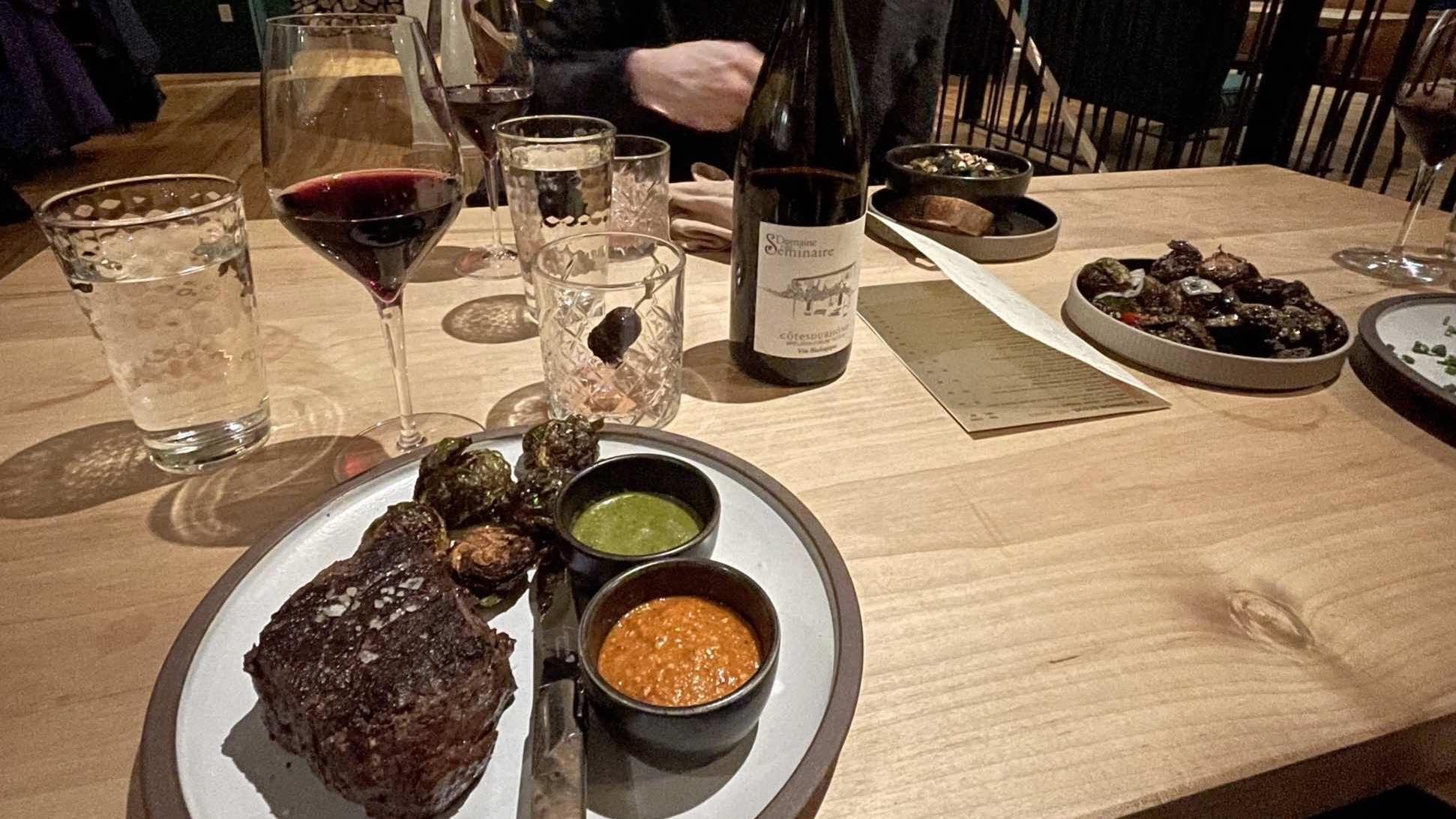 It's in the ribeye steak, a simply superb cut of meat, cooked to perfection and served with nothing more complex than two small side bowls: one of sea salt and one of house-made chimichurri sauce. It's just detectable in the celeriac, a creamy marvel of deliciousness, topped with a delightful porcini mushroom crème fraiche. This is a dish that will have you buying celeriac the next time your grocery shopping in the hope that you can turn that homely looking vegetable into something this wonderful.  
The smoke is a bit more upfront in the carrots, which – kudos to our server for suggesting them – are a dish not to be missed. Tiny heirloom carrots are grilled and dressed with dates, almonds, and a carrot-top zhug, a Yemeni sauce; this is usually fiery hot and ringing with cilantro, but here is a celebration of the earthiness and slight bitterness of the carrot tops, a perfect counterbalance to the sweet carrots and dates.
The Verdict? The Common Stove is Truly Wonderful
We rounded out our dinner with a sticky toffee pudding. This is a dish I nearly always order if it's on the menu… a decision I all too often regret. Sometimes I'm presented with a stodgy mass that has a medieval density; other times, it's something that looks and feels like it was made with cake mix.
But the sticky toffee pudding at the Common Stove is the reason I keep ordering it, in the hope that I will be served something like this. The pudding is firm yet light, a spongy island afloat in a sea of sauce with a balance of salt and sweet, topped with just the right amount of effervescent crème fraiche.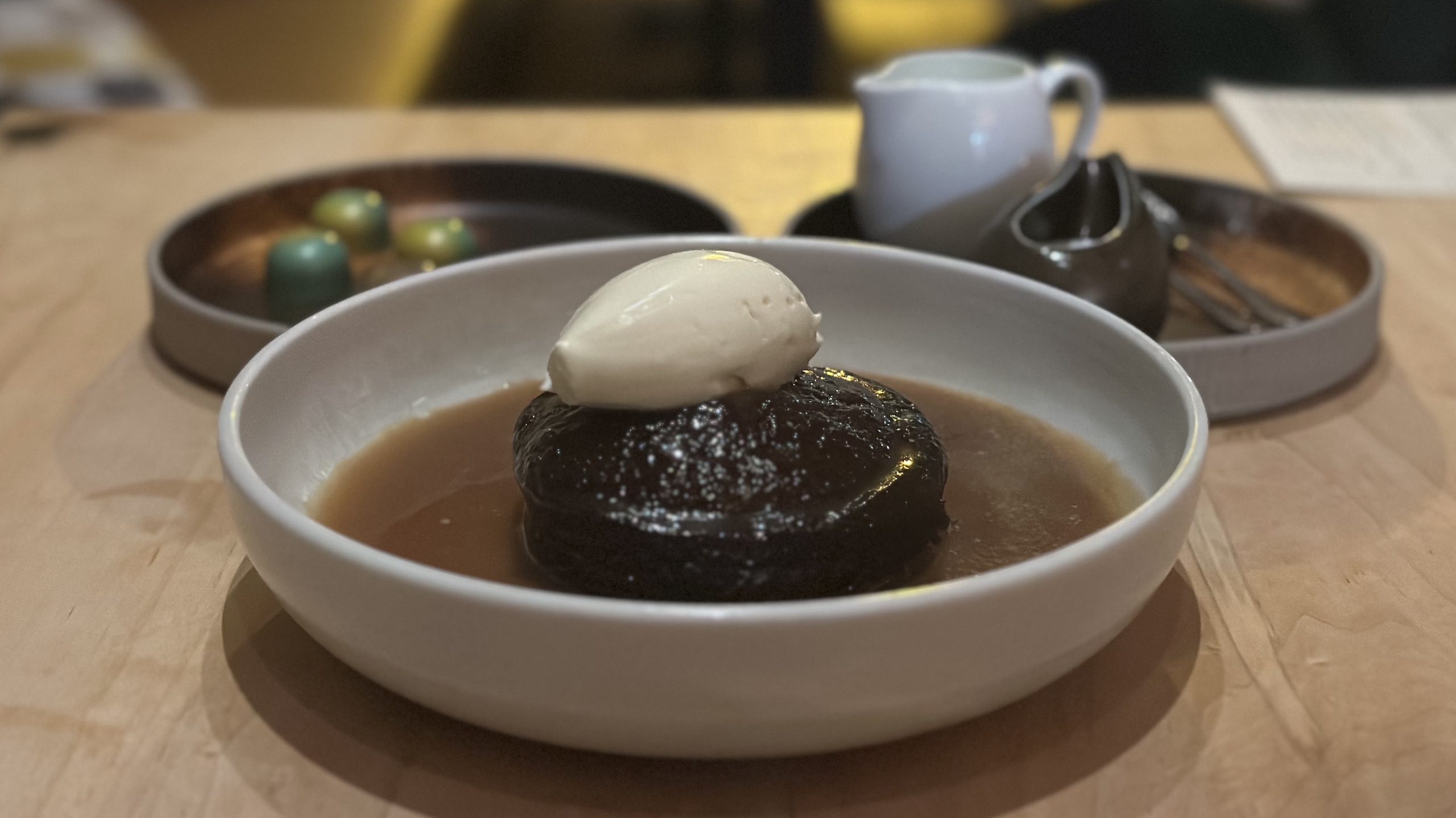 We also ordered a selection of Kindred Chocolates. I'd not heard of them before, but one taste of these remarkable bonbons has me contemplating a trip to the Orillia Library farmers' market, apparently the only other place you can buy these marvels. Crisp shells of dark chocolate encasing creamy ganache fillings, they are a miracle of confectionary.
 Including them as one of the few desserts on the menu speaks, once again, of confidence: the willingness to bring collaborators on board if their creations are a match for your own.
Our verdict? Creativity, vision and confidence: with these in equal measure, The Common Stove has created something truly wonderful.
To learn more about The Common Stove Restaurant in Orillia, visit their website at www.thecommonstove.com. Oh yeah… reservations are highly recommended (it's that good!). 
Riley Recommends: If you're planning on visiting The Common Stove from out of town, why not make a night of it with a stay at a great hotel? Check out our list of the best hotels in Orillia to find out more, and make date night out of it!
____________________
Andrew Wagner-Chazalon is the Managing Editor and CEO of Dockside Publishing, and writes about the luxuries to be found in Muskoka and throughout Central Ontario.

The 2024 BMW i5 M60 electric vehicle is a strong debut in the mid-size EV sedan market from one of Germany's top manufacturers